Schuette® Pleated Blind Made to Measure with Drilling • Suprafix Mounts "For screwing" • Premium Collection: White Day (White) • Profilfarbe: White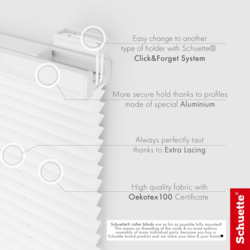 Premium
Thermo
Melange
Dolomite
Accessories

Made to measure Schuette Premium Plissees (custom-made) for screwing on ● White Day (White)
Attention!: These are original Schuette brand pleated blinds. The brand Schuette stands for quality products, which are manufactured locally, at fair wages and from solid, durable & modern materials, under strictest craftsmanship. Schuette pleated blinds are in NO way comparable with cheap DIY store & China blinds!
Measurement instruction: Width= Window glass width incl. sealing rubber (glass from left to right) -0.3cm x Height= Window glass height incl. sealing rubber (glass from bottom to top) +1cm
Example: If you have measured 77.9cm x 147.8cm (width x height), then the pleated size to order is: 77.6cm x 148.8cm
Features: Infinitely adjustable (Up&Down), double braced (NO pendulum), special aluminium profiles (NO! Bending/Breaking), as far as possible completely assembled (NO! Threading of the pleated blind cord / NO! tedious assembling of many individual parts)
Pleated fabric: 100% opaque, medium translucent, slightly darkening, vivid colors, UV protection (no fading), Oekotex certified, gentle colorization & self-developed
Installation: Schuette Suprafix pleated blinds screw-on / with drilling guarantee a clean, aesthetic, quick & easy installation without special tools. Of course our installation instructions including a link to our pleated blinds installation video are included! If you have any questions, please contact our support.
Collection

Premium

Mounting

Suprafix Mounts "For screwing"

Colour

White Day (White)

Profile Color

White

EAN

5903602175457

Brand

Schuette®

Price

€9.99  

including tax

Colour of mounting

White
Schuette® Suprafix Mounts "For Screwing/With Drilling"
Fast uncomplicated assembly, Schuette® assembly support by email
Can be mounted for glazing beads from 10mm
Robust, non-slip and secure hold
Available in all existing profile colors
Schuette® Click&Forget system allows easy change to other Schuette® mounting types if required
Lightning fast assembly
Schuette® pleated blinds are pre-assembled as much as possible to ensure a quick and frustration-free installation. Together with your order you will receive our installation instructions, which also includes a link to our video tutorial. If you still have questions about the assembly, our products or us, we are here for you.
NO!

tedious assembling of many single parts necessary anymore

NO!

tedious threading of the pleated cord necessary anymore

NO!

cheap 2 months lasting Chinese roller blind anymore!
FAQ / Frequently Asked Questions:
Q:

Are all the parts needed for assembly included?

A:

Of course. You only need a screwdriver for the assembly! If you want it to be faster you can pre-drill the holes with 2mm.

Q:

I have fixed windows. Are these pleated blinds suitable for this?

A:

Yes! Our Schuette® Premium Pleated blind "For glueing" is also suitable for fixed windows.

Q:

What is the width and height of the pleated blind?

A:

The selectable width (e.g. 80cm) corresponds to the actual width of the pleated blind. Please make sure that the ordered width is NOT! wider than your window pane.

Q:

What size should I take if I measured 76cmx140cm?

A:

The ideal size is 75.7cm x 141cm. For example, if you had measured 87x180cm, the ideal choice would be 86.7x181cm.

Q:

Is it possible to see inside the apartment from outside at night when the light is on?

A:

No! Of course, when we designed our pleated fabric, we kept this very situation in mind. The pleated fabrics are "opaque". With light colors, at most you can see rough shadows when you look in from the outside.

Q:

Is this pleated blind also a China blind that you have to spend 30 minutes assembling before you can even think about installing it?

A:

No. This is a quality product that has been specially designed. We value your time and "home" too much, so the pleated blind is assembled as much as possible to ensure safe transportation.
Finding the right dimensions - our guide
Pleated blinds with drilling are mounted on the glazing bead. They are attached to the glazing bead with the help of 2 mountings each at the top and bottom. Therefore, we recommend the following guide to measure for your Schuette® pleated blind:
Width

= glass width including sealing rubber - 0.3 cm

Height

= glass height including sealing rubber + 1 cm
A perfect fit is guaranteed with these short instructions!

Tip:

If you only want to cover a part of the window pane, you can enter these measurements in our pleated blind configurator and add the pleated blind to the shopping cart. Next, please enter the cord length (= window glass height + 10-15 cm) at the bottom of the shopping cart in the comment field for the order. Our production team will gladly take this into account for you!
The best mountings for your type of window:
Pleated blind without drilling
| | | | | |
| --- | --- | --- | --- | --- |
| | | | | |
| Suprafix Clamp holder | 13 - 23 mm | - | ✔ | PVC window, Wooden window, Aluminium window |
| Suprafix Clamp holder "Screw-on" | 14 - 25 mm | - | ✘ / ✔ | PVC window, Aluminium window |
| Suprafix Clamp holder "Double 2in1" | 5 - 23 mm | - | ✘ / ✔ | PVC window, Wooden window, Aluminium window |
| Suprafix Mounts "For glueing" | - | ab 5 mm | - | PVC window, Wooden window, Aluminium window |
Pleated blind with drilling
| | | | | |
| --- | --- | --- | --- | --- |
| | | | | |
| Suprafix Mounts "For screwing" | - | ab 10 mm | - | PVC window, Wooden window, Aluminium window |
Example:

You live in an

apartment for rent

and are

not allowed to drill

, then we recommend the following mounting options:
for

fixed windows

➔ Suprafix brackets "For glueing"
for

windows

, which

can be opened

, you can choose one of the three clamp holder options:
You have older wooden windows without a sealing rubber? ➔ Suprafix clamp holder "Double 2in1"
Your aluminum or plastic window frame is very narrow? ➔ Suprafix clamp holder "To screw on"
The mountings should appear as invisible as possible? ➔ Suprafix clamp holder