Schuette® Double Roller Blind without Drilling & with Drilling 2in1 Made to Measure • Day&Night Collection: White Snow (White) • Profile Colour White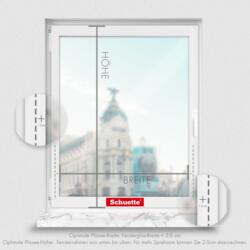 Day & Night
Thermo Blackout



Dear customers: These are original Schuette® brand roller blinds. The Schuette® brand stands for quality products, which are manufactured locally, at fair wages and from solid, durable & modern materials, in accordance with the strictest craftsmanship. Original Schuette® roller blinds are NOT IN THE LEAST comparable with typical DIY store & China roller blinds!
Schuette® day & night 2in1 roller blind without drilling / with drilling: Continuously adjustable (day & night). Freely selectable type of installation (Suprafix clamps + Suprafix screw brackets always included). Intelligent chain guide (no tearing & no blocking of the cord). Schuette® roller blinds are ready mounted as far as possible! (No! Threading of the cords & also no! tedious assembly of many individual parts necessary anymore), because we appreciate your time & your home!
Fabric properties: 100% opaque! Any light supply by day & night function. Light transmission: medium, slightly darkening, vivid colors & especially developed for roller blinds (UV protection -> no fading). Our roller blinds are also available in other fabric collections and mounting methods. Please search for: "Schuette pleated blind & roller blind manufacture"
Easy to clean: Wipe off with a slightly damp cloth. Also suitable for kitchen and bathroom! In the product description you will find answers to the most frequently asked questions!
Correct measuring made easy: The ordered width is the actual width of the fabric, the strap on the top is 1.5 cm on the left and 1.5 cm on the right (see pictures). The fabric may be a few centimeters wider than your window glass. However, please pay attention to the width of the window handle, so that it does not interfere with the movement of the roller blind. For the height, please measure your window frame from bottom to top. Always take the next higher height.
Foolproof & quick installation: No matter if you want to clamp or screw on your new Schuette® roller blind, you can expect a quick & easy installation, because you buy an original and finished Schuette® roller blind here and not a model kit as with other suppliers. If you would like to install your Schuette® roller blind without drilling or with the enclosed clamp holders, the rebate thickness (frame thickness without sealing rubber) of your window must not exceed 13-25mm.
Scope of delivery: 1x Schuette® roller blind, 2x Schuette® Suprafix clamp holders (incl. adhesive pads), 2x Schuette® Suprafix screw holders (incl. screws), mounting instructions incl. link to installation video, Schuette® quality promise
Collection

Day & Night

Colour

White Snow (White)

Profile Color

White.

EAN

5903602061972

Brand

Schuette®

Price

€9.99  

including tax
FAQ / Frequently asked questions:
Q:

Why products from Schuette Plissee & Rollo Manufaktur?

A:

Because just like the Schuette family, you don't want to have to spend 30 minutes to assemble bad roller blinds and you value quality, your time and your home ❤

Q:

How is this roller blind installed? Do you have to drill or can you clamp?

A:

Schuette roller blinds can be clamped or screwed to the window frame. Every roller blind comes with all the necessary parts for both types of installation.

Q:

How deep may my window frame be if I want to clamp the roller blind?

A:

If you would like to install your Schuette® roller blind without drilling or with the enclosed clamp brackets, the rebate thickness (frame thickness without sealing rubber) of your window must not exceed 13-25mm.

Q:

My window glass is 80,2cm wide and the window frame is 169cm high. The distance from the window glass to the window handle is 7cm. What size should I choose?

A:

85cm x 230cm. 85cm in width, because if the roller blind protrudes, the light gap between the window glass and the roller blind is reduced and the window handle is far enough away so that it doesn't interfere. For the height, always take the next higher height, because the additional material is rolled up and is not disturbing.

Q:

Is it possible to look into the apartment from outside at night with the lights on?

A:

No! Of course we have thought of this situation when we designed our day and night roller blind fabric. Schuette roller blinds are 100% "opaque". With light colors you can only see rough shadows when you look into them from the outside.